Eolas Travelling Pavilion: Glasgow Collective, Festival of Architecture 2016 Building Images, Scottish design knowledge
Eolas Travelling Pavilion: Glasgow Collective Event
GIA Installation – FOA2016 Event: Festival of Architecture 2016 Scotland
25 Mar 2016
Eolas Travelling Pavilion – Opening in the Glasgow Collective
'Eolas' is the Gaelic word for knowledge. This traveling pavilion aspires to promote the Festival of Architecture 2016 and to travel to all areas of the Glasgow Chapter, but more importantly reach as much people as possible from all different backgrounds.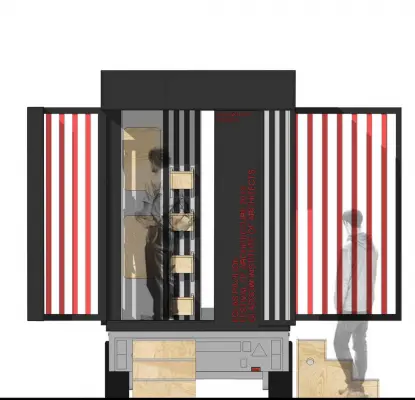 Eolas Travelling Pavilion at Glasgow Collective 2016
The GIA functional brief for the pavilion was simple: a place where things can happen, but it should be also able to provide essential information about the events, exhibitions, and a mobile architectural salon.

The pavilion has been touring Scotland during the month on March, staying at each of them for one week; Kilcreggan – Rosneath Peninsula West Community Development Trust, Dumfries – The Stove Network, Coll – An Cridhe. Upon arrival, the local community group or organisation has taken up management and programming of a wide range of events around the pavilion that has acted as a catalyst to celebrate the Festival of Architecture 2016. From the 28th April the pavilion will be permanently sited on the Glasgow Collective premises and will be featured on a number of up and coming events.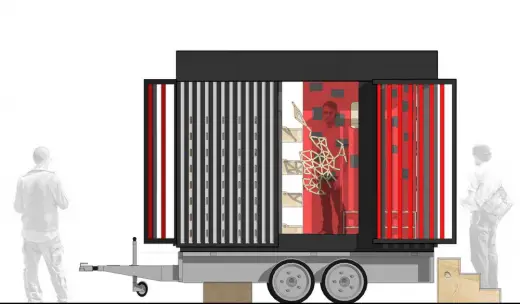 In addition, the Eolas Travelling Pavilion is an information gathering tool, collecting valuable information from the communities where it has been and allowing them to answer a few simple questions to identify spaces needed within their community by analysing the information gathered.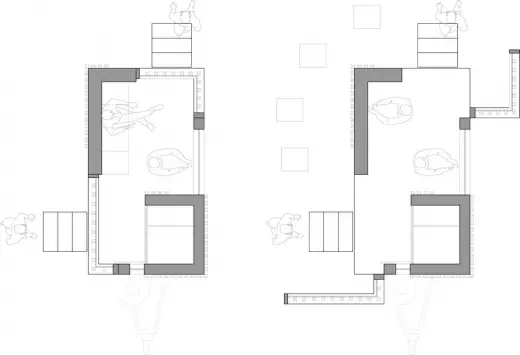 The Eolas Pavilion is a pure, simple black volume – a compact 1.7m x 3.1m x 3m – which acts as a large scale intervention inviting curious residents in from the local community. As users move around the box, the rhythm of the vertical battens change.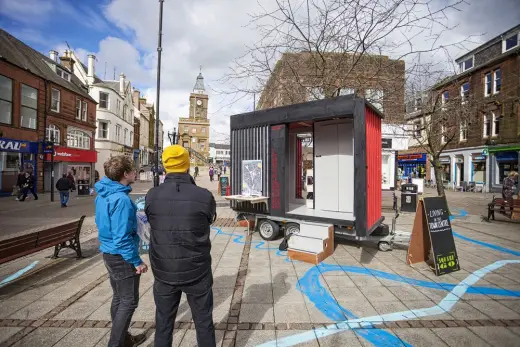 Photographer: Ross Campbell
The tightest spacing articulates opaque walls; the larger gaps, backed by translucent poly carbonate allows light and views to filter through; and the widest openings allows signage and offers windows displaying the community fuelled piece of art, an analogue information gathering workshop, showcasing the interest within and encouraging eager community members to enter.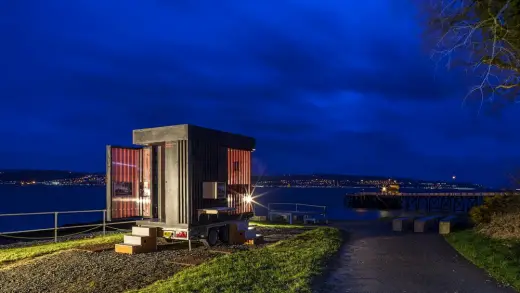 During the day, the invitation becomes more pronounced when two walls pivot open, removing the corners of the pavilion and welcoming people inside or to gather around the front. Users can choose to enter the pavilion to interact with the information gathering workshops within, enquiring about their built environment, or choose to interact with the events happening around it.
Attachable and detachable by a hook system, bespoke pieces of plywood furniture adorn the pavilions exterior, allowing the black abstract volume to transform into a back drop for various community events.
To make this project possible, the Glasgow Institute of Architects engaged with Paul Pointon from Strathclyde University to collaborate, design and build the project as part of his fifth year thesis, the MAKlab who provided much needed workshop, machinery and technical support and Woolgar Hunter who provided structural engineering advice.
Eolas Travelling Pavilion Scotland – Building Information
Project Title: Eolas
Location: Glasgow Collective, 15 East Campbell Street, Glasgow G15DT
Type of Project: Traveling pavilion
Client: Glasgow Institute of Architects on behalf of the FOA 2016
Design: Paul Pointon
Funding: Scottish Government
Site start date: (fabrication) January 2016
Completed: (fabrication) March 2016
Contract duration: –
Gross internal floor area: 4m2
Total cost: £8.5k
Structural Engineers: Woolgar Hunter
Fabrication: MAKlab
Collaborators: Paul Pointon, Ryan Reid, Chris Hudson, Gary Wright, MAKlab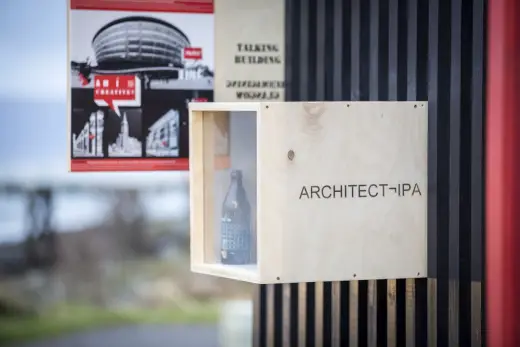 Glasgow Collective, 15 East Campbell Street, G15DT.
The pavilion was made in collaboration with Strathclyde University as the project was delivered as a 5th Year thesis project by Paul Pointon, MAKlab who provided workshop / equipment and support and Woolgar Hunter as structural engineers.
Glasgow Building Designs
Contemporary Glasgow Property Designs – recent Strathclyde architectural selection below:
GIA Design Awards – Glasgow Institute of Architects Prize
Website: Glasgow Institute of Architects
Glasgow Buildings
BBC Glasgow
Paisley Museum Transformation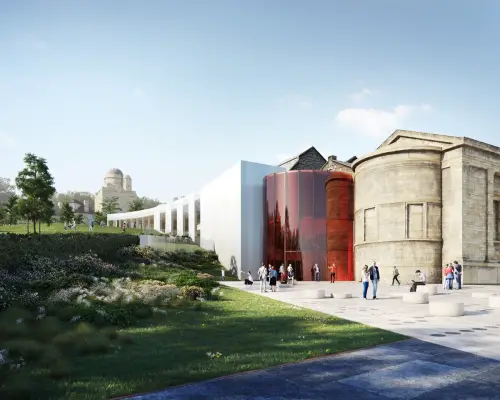 image courtesy of Renfrewshire Council
Paisley Museum Building
Comments / photos for the Eolas Travelling Pavilion: Glasgow Collective page welcome.