Creating levels in your garden style advice, Property outdoors stepped design guide
Creating Levels in your Garden
6 June 2023
Although many would pay a lot of money to have their gardens completely levelled, there can be many benefits to having a sloped garden space. A sloped garden allows you to take advantage of the different heights, creating interesting focal point for your outdoor area.
When designing around the challenges of a sloped garden, there are many different approaches and practical ideas you can take forward. In this article, we will look at some of our favourite design choices you can use when it comes to sloped gardens, and how you can implement them in your own space. Let's take a look.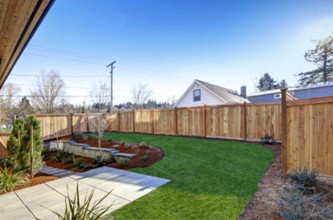 Creating Levels in your Garden Advice Guide
Creating a Border
To ease the transition between the different levels of a sloped garden, you can create multi-tiered flower beds to flank the border of your space. Taller plants will help to give your garden more of a sense of height, and choosing vibrant, colourful plants for the lower flower beds will draw attention and can help to create maximum impact and contrast.
A great way of making homemade planters is by using timber cladding edge boards to gently curve around the raised beds. This will add a sense of structure, creating a more distressed and rustic look, and will help to break up the monotony of a more linear approach to garden design.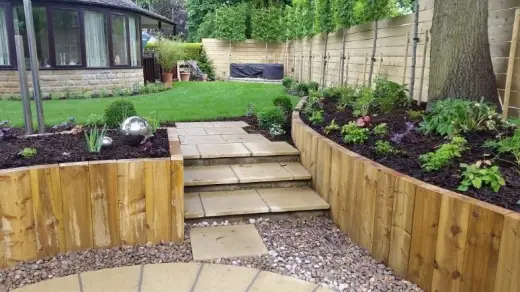 Sleek Paving
If you are looking for a contemporary, flat surface for a heightened seating area, a sure and tested way to achieve this is by adding paving. This design feature can really help to smarten up an area and create a space perfect for entertaining guests or lounging in the sun. This extra tier will also help to create a distinct, separate section between the garden zones.
Tiered gardens can also be used to create more private areas within your garden, making hideaway seating spaces for you to escape to. With different patio heights, you can incorporate different entertainment spots within your garden. If you don't already have height within your garden, you can add it by contouring and mounding the earth, so the grounds rise gently.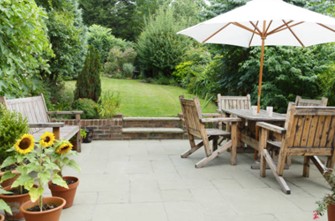 Composite decking
With a sloped surface within your garden, you have the choice to completely level it and cover it with decking. However, you can create tiered deck spaces, with raised steps, to help you to navigate your space more easily. There are many options for decking material, including traditional timber, and more modern alternatives such as aluminium and composite boards.
With any decking, you can enjoy a multi-levelled garden, whilst still enjoying a flat, rigid surface for the individual tiers. If a square or rectangular deck space isn't for you, you can instead get creative with the shape and size of your decking area and choose a more curvilinear approach. For example, composite decking boards can be easily cut like real timber, to help your decking project fit around those more awkward spaces.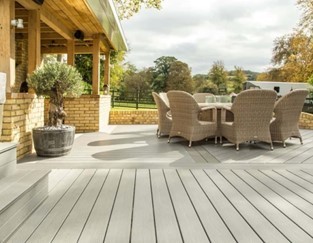 Planting
As stated, easing the borders of your garden space with planters can help to ease the gradual slope of a multi-levelled outdoor area. However, you can also get inventive with the kind of planting you grow in your lawn space outside of these planters. Adding height with plants, including bamboos, grasses and perennials which will accentuate the gradient of your garden and emphasise the contours.
You could also add low shrubs and flowers to slightly raised beds, to help create a more gradual, gentle incline towards the back of your garden. Similarly, to how you can use planters to soothe your garden perimeter, we would recommend using low planting to surround the edge of any garden pathways, to help your garden feel more natural and less overly designed.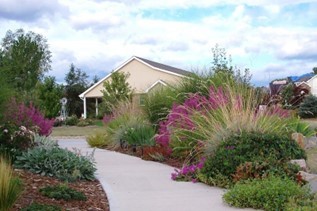 Comments on this guide to creating levels in your garden article are welcome.
Buildings
Key Buildings in Scotland Articles – architectural selection below:
Merchant City boutique hotel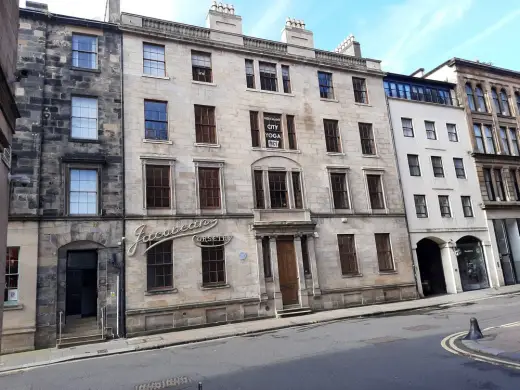 image courtesy of architects practice
Merchant City
Candleriggs Square Apartments Merchant City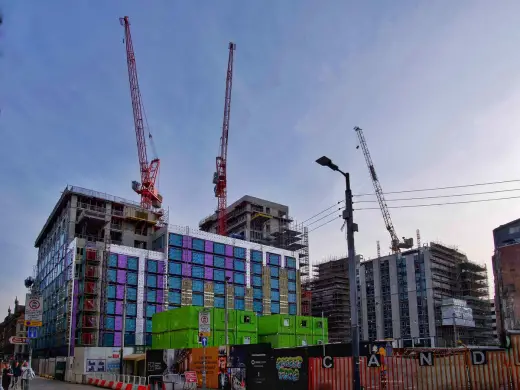 image courtesy of architects practice
Candleriggs Square Apartments Merchant City
Historic Glasgow : best Glasgow architecture of the past
Comments / photos for the Creating levels in your garden advice guide page welcome