Architecture of Irish casinos to visit, Ireland buildings, Good gaming operator advice
The Architecture of Irish Casinos – Most Beautiful Casinos to Visit
15 March 2023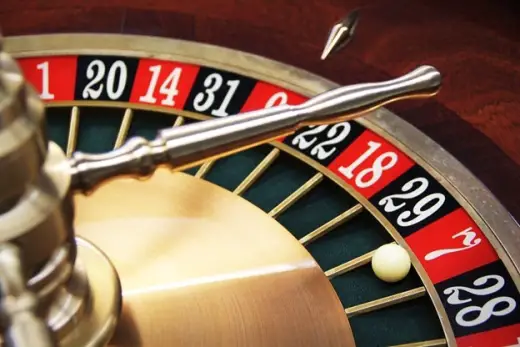 image courtesy of article provider
Although gambling online might be more practical for more people, seeing as how it's available regardless of location and time of day, there's no denying that vising a real, land-based casino simply produces a special kind of feeling. As much as they try, online providers cannot match the atmosphere that brick-and-mortar casinos produce, with all their tables and machines, lights and music.
What is more, casinos can also be located in some beautiful spots and come with breathtaking architecture. If you're planning a trip to Ireland and would like to check out a few casinos, here is a list of a few that you should not skip. Take a look.
Gambling in Ireland
For starters, if you're thinking about going to Ireland, it would be a good idea to familiarize yourself a bit with the local laws regarding gambling. Seeing as how we're talking about casinos, you might think they are legal. However, that is not entirely true. Gambling in land-based casinos, and their existence in general, is not legal in Ireland. That being said, as they obviously exist, we should explain how that is possible. While the law says that gambling in brick-and-mortar establishments and online is not allowed, providers found a loophole that lets them run "private, member-only clubs" that come with casino games and a casino-like atmosphere.
With that in mind, you need to keep in mind that you might not be allowed to play in every single casino you visit. Some will ask you to become a member, which might not be the best option if you're only there for a short time. Just don't be surprised if they turn you away at the door. On the other hand, you might not even be interested in going in and only want to see the building it's located in.
The Casino at Marino
First of all, let's start with the Casino at Marino. Contrary to its name, this is not actually a casino so don't be fooled. Its name is the diminutive of the word 'casa' meaning 'house', so it translates to 'little house'.
It was designed for James Caulfeild who fell in love with all things Italian after his nine-year tour of Italy and Greece. He hired Scottish architect William Chambers to build a little house on his estate, which was named after Marino, a town in Lazio. The build was started in the late 1750s and completed in 1775. Chambers never got to see the finished project as he had many commitments all across the United Kingdom. The Casino is the only structure that remains on Caulfeild's estate at Marino.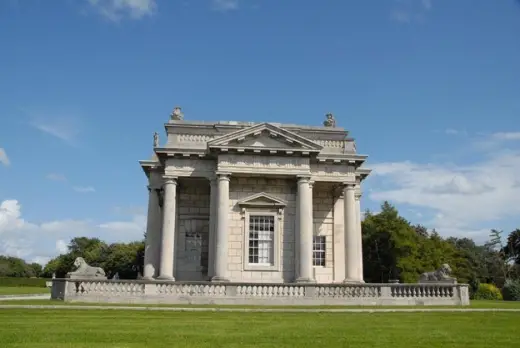 image source : TripAdvisor
It is built in the neoclassical style and is thought of as one of the most important buildings in that style in Ireland. Although it is rather small, only 232 m2, it actually contains multitudes. From the outside, it looks like a single room, but it comes with 16 rooms on three floors. It has a single large door on the north elevation and a large window on all three other sides.
There are four columns that are hollow and let rainwater drain down while the Roman funerary urns serve as camouflage for chimneys. There is a lion on each of the four corners. There was also a tunnel that connected the little house with the main house on the estate so that servants could easily bring in food and drinks to anyone who was visiting Caulfeild at this pleasure house. The tunnel has been blocked off. The structure is now part of a public park, where it can be appreciated by visitors and residents.
The Fitzwilliam Casino and Card Club
Up to 2019, one of the most famous casinos in Dublin was the Fitzwilliam Casino and Card Club. It was located at Clifton Hall on Fitzwilliam Street Lower, Dublin. While it was open, it welcomes members and guests that are 18 and over and allowed them to play everything from roulette and blackjack to brag and progressive jackpot games. One thing about this casino is that it did not serve alcohol in order to maintain a professional atmosphere. As the casino closed in 2019, it blamed the Gaming and Lotteries (Amendment) Act, saying it barred it from running properly. About 80 jobs were lost.
The Fitzwilliam Casino and Card Club was located in a former church that was built around 1939. While it is in the Art Deco style, its red brick façade fits in nicely with the Georgian surroundings. The overall structure consists of three parts. The protruding three-bay façade where the casino was located is flanked by a recessed six-bay block with three storeys and a three-bay single-storey block that is used as a clinic. A pitched slate roof is combined with flat roofs and brick parapets. The look is completed with arched, metal windows and timber-panelled doors.
The Sporting Emporium Casino
When looking for venues that are still open, you can easily find some of the best land-based casinos located in Dublin, Galway and Cork. Located at 5 Anne's Ln, South Anne Street, Dublin, the Sporting Emporium Casino was established in 2005. It is known as one of the best in the city. It attracts both modern and classic table game lovers. Besides poker and blackjack, it also houses punto banco and is the only venue in Dublin to offer sic bo. It hosts tournaments while participants need to be at least 18. Moreover, a means of identification is necessary; an ID, passport, or driving licence will work. It is open from 8 pm to 6 am.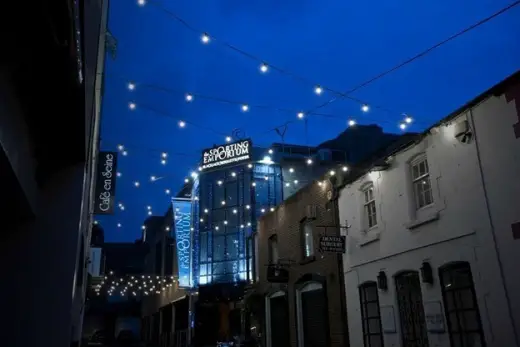 photo source : TripAdvisor
While some might say that the Sporting Emporium Casino is neatly tucked away in the centre of Dublin, you can easily spot it once you're in the street. It's safe to say that it stands out from the Georgian buildings surrounding it as it's a bit taller and covered in windows.
Ned Kelly's Sportsclub and Casino
Ned Kelly's Sportsclub & Casino can be found at 43 O'Connell Street Upper, Dublin. It works from 9 am to 3 am, which is significantly longer than the Sporting Emporium Casino, so it might fit into your schedule a little bit better. Moreover, it's open all day on Thursdays, Fridays and Saturdays. It is named after a gang leader from Australia. The members are welcomed with lots of glitz and glamour as the place is very luxurious. Players can expect everything from pool and snooker to roulette and digital slots. Many see it as more of an entertainment centre than a casino.
This casino is also located on a street that's full of Georgian architecture. It is placed across the Gresham Hotel, a staple in Dublin. Ned Kelly's Sportsclub and Casinos fits in nicely with the architecture and it's not too on the nose. While there are neon signs in the windows, keep an eye out so that you don't miss it.
Fitzpatrick's Casino – Slots and Roulette
Fitzpatricks' Casino is a venue that is open 24 hours every day. That way, if you're visiting Dublin, you can easily fit a visit into your itinerary. It's located at the Plaza Complex, Belgard Square, Tallaght, Dublin. Established in 1980 as the Fitzpatrick's Casino and Card Club, this is the most prominent branch of the franchise that can also be found across Dublin and Limerick. The venue offers roulette tables and slot machines, which draws in thousands of players every day.
Seeing as how it's part of the Plaza Complex, it will be easy to find. Furthermore, you cannot miss the red doors, walls and banners that really help the casino stand out.
Macau Casino Complex
Even though most of the land-based casinos are located in Dublin, you'll be glad to hear they're not all in the capital. For example, if you go to Cork, you can find the Macau Sporting Club Casino. Located at 16 St Patrick's Street, here you will find poker, slots, blackjack, roulette, live sports and even classy dining facilities for club members. It's open from 2 pm to 6 am, so you can have a fun evening whether you're gambling or not. If you're a beginner, don't worry; it caters to all players regardless of their experience. There are even tournaments and cash games that you can take part in. Keep in mind that you have to be over 18 to enter.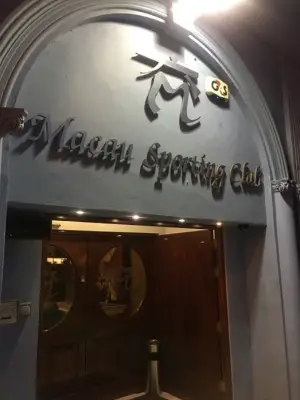 picture source : TripAdvisor
Don't worry about passing by it as you are sure to spot the bright blue façade that contrasts the surrounding brown brick. The reddish door and an arch over them alongside the big sign will tell you that you are in the right place.
Caesars Palace
If you find yourself in Galway, you can also find a good casino. Open from 9 am to 7 am, Caesars Palace is located at 202 Upper Salthill Rd, Salthill, Co. Galway. As the scenic Salthill Promenade is an iconic spot in the city, it will not be hard to miss. Slots, roulette and video games are all available as well as a 200-seater bingo hall that is open to members every night. Members all get free tea, coffee and biscuits.
While the building is not too eye-catching, you will not miss Caesars Palace as it has a black and red colour palette that makes it very memorable. Upstairs, there are four dormers that add to the charm of the building.
As you can see, there is plenty to choose from if you decide to take a trip to Ireland and visit a casino of two.
Comments on this guide to Architecture of Irish casinos to visit article are welcome.
Casinos
Casino Articles – selection below:
Land-based casinos as architectural masterpieces
Free spins in new online casinos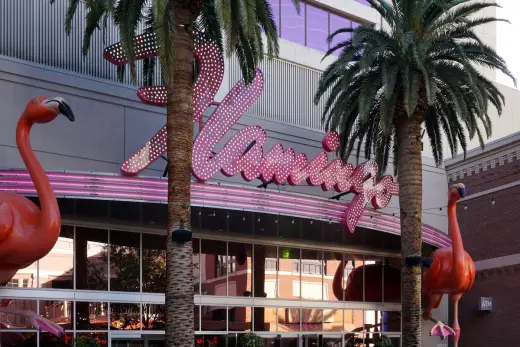 Buildings
Key Buildings in Scotland Articles – architectural selection:
Merchant City boutique hotel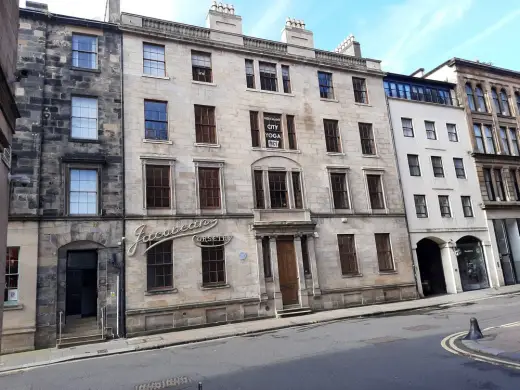 image courtesy of architects practice
Merchant City
Historic Glasgow : best Glasgow architecture of the past
Comments / photos for the Architecture of Irish casinos to visit advice guide page welcome