Why MDF is great material for beginner DIYers guide, Home refurb tips, House renewal building advice
Why MDF is a Great Material for Beginner DIYers
27 April 2023
If you're just starting out on your DIY journey, choosing the right material for your project can be a bit of a tricky task. You're probably looking for materials that are cost-effective and beginner-friendly but still look amazing as part of the finished product.
One such material that is popular with beginner DIYers is MDF. Short for Medium Density Fibreboard, MDF has become a popular choice for DIY enthusiasts of every experience level. Here are the key reasons why MDF is an excellent option for your next DIY project.
But first…

What is MDF?
Medium Density Fibreboard is a type of engineered wood product made by breaking down wood fibres, which are adhered together with resin and wax. This mixture is then compressed under high pressure and heat to form a dense, uniform board with a smooth surface. Due to the high pressure involved, you'll be able to find different densities of MDF that can be as strong as or even stronger than solid wood!
With this in mind, here are some of the reasons that MDF can be a great material for anyone first getting into DIY.
Cost-effective
If this is your first project, you might have a limited budget, or are hesitant to splurge out on your very first DIY endeavour. In that case, MDF is the right choice for you. MDF boards are reasonably priced and won't break the bank, which is great if you don't want to spend too much on your first few projects. By using MDF boards, you'll be able to create high quality pieces without blowing too much of your budget on materials.
Versatile
MDF boards are also incredibly versatile and can be used for a wide variety of projects.You'll be able to cut, drill, route, and shape it to fit exactly what you need. The composition of compressed wood fibres and resin helps to create a strong, smooth surface that's easy to work with.
You'll also be able to find MDF boards with different qualities, such as fire-resistant and moisture-resistant MDF. These features will be incredibly useful if you plan on using your completed project outdoors or in damp spaces. From cabinets, skirting boards, and wardrobes, the opportunities are practically endless.
Easy to paint
If you want to turn your project into a work of art, you're in luck – MDF boards are perfect to paint on. Their smooth and uniform texture helps to create a perfectly unblemished surface ready for painting. This also makes it a great choice if you're also just getting into painting as well since it provides a more reliable canvas to work on. Even if you do find yourself slipping up, you can simply sand the board down and paint over it again.
Before painting on MDF, it's recommended that you prime it first to make sure the paint sticks to the surface. Afterwards, you can use a variety of different paints such as acrylic, oils, spray paints, and enamels to decorate your project and create the perfect look.
For those of you who might not be so artistically inclined, Cworkshop stock a range of different colours and styles of MDF boards to help you create your masterpiece. If you want to make your project really stand out, check out the Twincolour MDF collection which offers a wide range of vibrant two-tone MDF boards.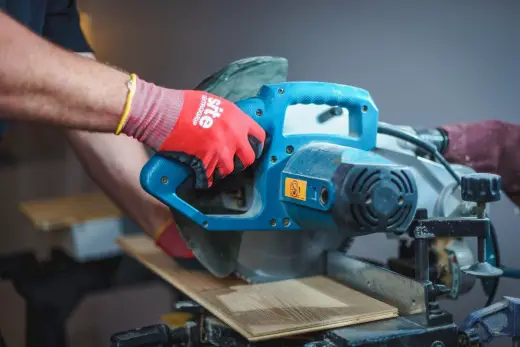 Strong and durable
If you're looking to build wardrobe or cupboard carcasses, MDF is a great choice of material. It's strong, durable, and can bear heavy loads. Plus, unlike solid wood, it's unlikely to warp over time.
Environmentally friendly
For the more eco-conscious creatives in the crowd, you'll be happy to hear that MDF is one of the more environmentally friendly materials out there. As it's primarily made of wood fibres, wood shavings and sawdust can be recycled into MDF production. Using these byproducts helps to reduce waste and minimise the strain on our forests.
Things to keep in mind when working with MDF
With all of these amazing benefits of MDF for beginner DIYers, you may be ready to rush out and buy some boards. However, it's important to note a few things before you get started on your project.
Firstly, it's important to always wear suitable personal protective equipment such as respirators when cutting or drilling MDF because the fine sawdust released can be harmful to your health.
Secondly, most MDF does not hold up well in damp or humid conditions, unless you choose a moisture-resistant variety. This means that if your DIY project will live in a humid kitchen or bathroom it's best to choose a moisture-resistant type of MDF.
Get started on your DIY journey with MDF
Versatile, affordable, durable, and easy to paint, MDF is the DIYer's best friend. If you're still not sure whether it's the right material for your project, head over to Cworkshop's website to learn more about working with MDF.
Comments on this guide to Why MDF is great material for beginner DIYers article are welcome
Property Designs
Glasgow Architecture Designs – architectural selection below:
Comments / photos for the Why MDF is great material for beginner DIYers advice guide page welcome