Steel industry fabricators, Construction advice, Production companies, Building business guide
Steel Industry and Why It Is Important
19 May 2022
Steel is considered one of the most important materials for a rather large number of industries right now, including engineering, construction, marine, energy, and so on. A massive part of the world's current infrastructure would not be even remotely the same without steel – both in terms of the material itself, and also in terms of actual millions of jobs that the steel industry creates.
On its own, steel is an alloy of multiple different types of materials, including carbon and iron – and since carbon and iron comprise a large part of the alloy in the first place, steel is often defined as an alloy of just carbon and iron. The number of different use cases for steel is immense, including various electronic appliances, such as refrigerators or coffee machines, as well as something less mundane, such as cars, ships, construction segments, and many industry-specific tools and appliances.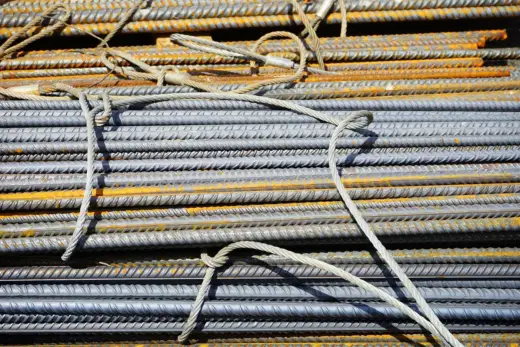 Steel Industry Importance Guide
There are multiple different terms that could be used to describe companies in the steel industry as a whole, with the term "steel fabricators" being one of the more common ones. It is also a rather widespread assumption that the steel industry is evenly spread across the entire planet, since practically every place in the world needs steel in some way.
However, the reality is far from it – in fact, almost half of the top 20 steel production companies (by the end of 2020) are located in China, with most of them working for the internal market. The absolute biggest steel company in the world when it comes to the amount of steel produced per year (by the end of 2020) is China Baowu Steel Group, with ArcelorMittal being the biggest non-China company on the list and getting a second spot in terms of steel production amounts.
It is worth noting that the steel industry, no matter how involved and massive it is, still has to interact with other industries and be affected by them. The technological progress as a whole also affects the entire industry quite a lot – with a notable example being LKAB announcing massive investments into the iron processing method. The goal of LKAB here is to create an emission-free iron processing method in the next 20 years, with the total investments being around $46 billion.
Since LKAB is the biggest iron ore producer in Europe, this kind of investment is a big deal for the entire industry since it pushes other steel fabricators towards being more environmentally conscious – and that is just one example out of many. It is also worth noting that massive steel companies from the top-20 list are not the only ones on the market, either – there are quite a lot of other companies with different scope of operations and different goals.
Levstal is one such company, providing a range of services such as steel fabrication, metal engineering, modular steel houses and steel structures. More examples of Levstal's metal engineering capabilities can be found here: https://levstal.com/metal-engineering/.
Construction plays a rather large part of any steel company's business, and Levstal is no different, since it is one of the company's strengths – providing both the creation of the steel structure elements and being able to install them, effectively creating a building from the ground up.
As for the steel structure elements – there are quite a lot of them, since steel structure as a whole is a combination of multiple different elements that create a segment of a project, or an entire building's frame. Some of the elements that are often used as steel structure components are:
Rod – a steel piece that is long and relatively thin;
I-beam – a cross-section with an obvious shape that is the letter "I";
Tee – another variation of a cross-section, this one resembling the letter "T";
Sheet – a piece of metal that is flat and unusually thin (less than 6 mm);
Angle – an "L"-shaped cross-section;
Plate – a sheet with an increased thickness, going up from one-fourth of an inch in terms of thickness;
Rail profile – a subcategory of an I-beam that is asymmetrical in some way, has multiple possible options, such as a railway rail, grooved rail, vignoles rail, and so on.
Of course, this list is not even remotely complete, since there are also a rather large number of elements that have their own very specific purpose, which makes listing all of them a rather problematic task. More information about steel structures as a whole can be found at https://levstal.com/blog/steel-structure/.
What we can elaborate on here is the way all these elements are made – most of these can be made with a process called rolling. Rolling is the process of thinning metal stock pieces by passing them through one or multiple pairs of rolls. Some of these examples can also be made by fusing multiple flat or bent plates together with welding.
When it comes to rolling and welding, explaining the former is far easier than the latter, which is why we are going to go over welding as a process, too. Welding is a process of combining multiple metal details into one by the force of pressure and heat. It is a rather versatile method, suitable for a lot of different operations when it comes to steel fabrication.
As a steel fabrication company, Levstal provides a variety of different sheet metal welding services that come in handy for many different fields and industries, be it marine, pulp and paper, energy, construction, mining, and so on. Levstal has two dedicated assembly workshops fully equipped to perform both welding and other operations, and it supports four popular welding methods – TIG, MIG, MMA and MAG.
Since each metal type tends to react differently to welding as a process, a certain level of skill is required to perform all of the necessary operations during the welding process with different materials. Levstal employs more than enough highly skilled professionals that can weld iron, aluminum, copper, and, of course, stainless steel products using sheet metal plates.
Comments on this guide to Steel Industry and Why It Is Important article are welcome.
Property Designs
Glasgow Architecture Designs – architectural selection below:
The Foundry Cathcart housing development
The Foundry Cathcart housing development
50 Bothwell Street Office News
50 Bothwell Street Office Redevelopment
Comments / photos for the Steel Industry and Why It Is Important advice page welcome.