Render Studio Scotland, Scottish Architectural Visualisers, Design Awards Glasgow News
Render Studio Architectural Visualisers
Architecture CGI Scotland – Architecture + Design Images
8 Sep 2019
Render Studio News
Top Recognition For Leading Architectural Visualisers, Render Studio
• Render Studio awarded top prize and a commendation in the visualisation category at the Scottish Design Awards
• The awards were held on Thursday 22nd August in Glasgow.
• Render Studio Creative Director says "growth of computer generated imagery, virtual reality and augmented reality is set to continue".
Amongst a showcase and celebration of Scotland's best designers throughout graphic design, digital, architecture and interior design, Fife based Render Studio scooped both the visualisation award and a commendation in the same category at the Scottish Design Awards. The awards were held on Thursday 22nd August in Glasgow.
Hendrick's Gin Palace, Scotland, by Render Studio Architectural Visualisers: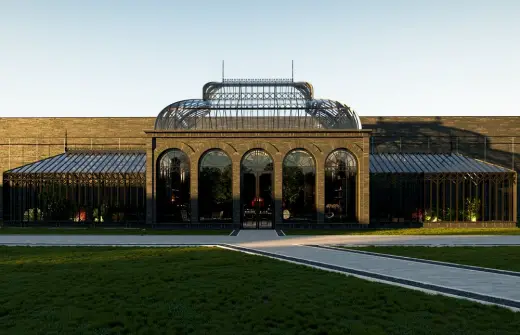 image courtesy of Render Studio Scotland
This was the first year that a Visualisation category was included at the Scottish Design Awards. Render Studio, Scotland's leading CGI, VR & AR specialists, were awarded the top accolade for their Hendrick's Gin Palace project, which featured photorealistic architectural and interior visuals. The visuals included an immersive Virtual Reality experience which showcased the proposed building design at an early stage. The building, designed by Michael Laird Architects and Scarinish, officially opened in Girvan late 2018.
In addition to the top award, Render Studio were also highly commended for their product visualisation work for Edinburgh based, COCO Chocolatier, as part of the structured re-brand by design agency Freytag Anderson.
Creative Director Blair Porter said "We are delighted to have not only won the inaugural visualisation award at the Scottish Design Awards for our work with Hendricks Gin Palace but also to receive a commendation for our work with Coco Chocolatier. It is amazing to be credited among our peers who we so highly respect and work with. It's brilliant the Scottish Design Awards have recognised what we do, with many of our CGI's having been used for a number of years in other designer's entries, it is great to be recognised as an art in our own right.
The growth of computer generated imagery, virtual reality and augmented reality is set to continue and businesses are realising the potential and advantage of using these services. This Scottish architectural visualisers firm specialise in photorealism and are being increasingly used as a virtual photographer to visualise their products in specific environments or virtual locations. This greatly assists our clients to achieve total brand consistency across their range of products with seamless integration of new and future product variations."
Twitter: @render_studio
About Render Studio
Render Studio Limited is a mixed reality studio specialising in photo realistic computer generated images, virtual reality and augmented reality and was established is 2009.
These Scottish architecture visualisers work with architects, graphic designers, interior designers, developers and technological companies to create the perfect experience of their product, place or environment, whether in existence, production or conceptual stage.
Render Studio brings brand consistency across all media platforms and can create images, environments and experiences to as large as a scale as required.
Hendrick's Gin Palace
Render Studio were appointed to assist interior designers Scarinish Studio achieve sign off for their eclectic interior designs for the Hendrick's Gin Palace in Girvan.
A challenging brief, and in line with Hendrick's famously quirky Victorian brand, much of the furniture and Victorian dressing elements were hand selected from various antique auctions from which the Studio was required to produce photorealistic assets for inclusion within the lavish and opulent interiors.
As part of the project they also provided a series of Virtual Reality (VR) environments to assist with buy in from the client. These were interlinked allowing the viewer to effectively transport themselves around the various spaces and appreciate the interiors from varying angles.
The work was presented to the Board at a very early stage to provide them the opportunity to properly visualise what the project would look like once complete and allowed Scarinish Studio to receive full sign-off prior to work commencing onsite.
In addition, Render Studio also assisted Michael Laird Architects achieve sign off for the extravagant Victorian style Glass house situated within the walled garden and the focal point of the Gin Palace. Various roof styles and fenestration details were proposed which we visualised and presented to the board for approval.
COCO Chocolatier:

Hendrick's Gin Palace from Render Studio Scotland on Vimeo.
Render Studio were commissioned by creative agency Freytag Anderson to produce a series of visuals for their rebrand of Edinburgh based COCO Chocolatier.
The visuals ensure brand consistency across COCO's range of chocolate which changes seasonally, with additional special one-off collaborations with various artisan providers also required on occasion.
In addition to the CGI pack shots, Render Studio also created a gallery scene where the bars and drinking chocolate could be exhibited to further enforce 'The Art of Chocolate' strap line created by Freytag Anderson.
The new brand position of COCO has created opportunities to collaborate with art institutions such as the V&A, National Galleries and Tate.
Additional Credits: Core Bar Artist – Rachael Hood Core Bar Artist – Neasden Control Centre Core Bar Artist – Palefroi Core Bar Artist – Mari Campistron Drinking Chocolate Artist – William LeChance
Architecture in Strathclyde
Base Glasgow Student Housing Development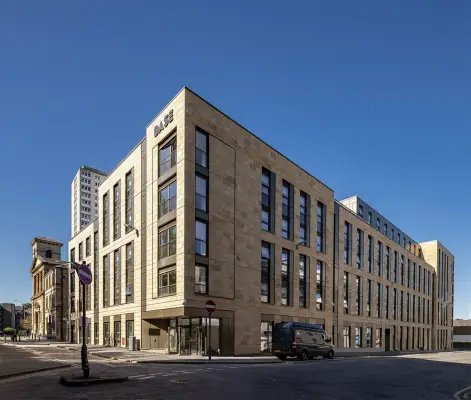 image courtesy of architects
Base Glasgow Student Housing
University of Glasgow Building
Comments / photos for the Render Studio page welcome