Glasgow Georgian Architectural Treasures advice, Scottish historic architecture tips, Best Strathclyde property designs
Glasgow's Georgian Architectural Treasures
17 October 2022
When people think about the beautiful architecture of Scotland's largest city, it is normally Victorian architecture that first comes to mind. From the beautiful facades all down Buchannan and Sauchiehall streets to the impressive and eclectic display of churches, houses, and statues at Park Circus, it is certainly true that Glasgow's most impressive architecture dates from this period. A period when it was one of the industrial power houses of the world, and wealth flowed into the city to build the grand monuments and dwellings of the merchant class.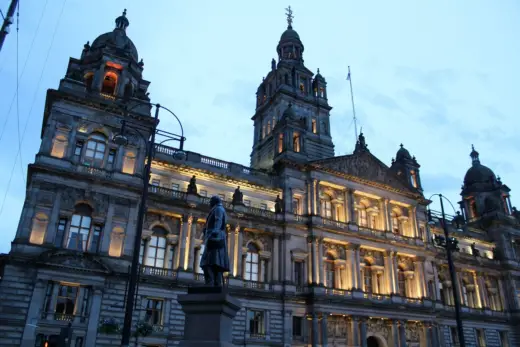 Glasgow's Georgian Architectural Treasures in Strathclyde
It would be fair to say that Glasgow is a city of Victorian beauty, but this has often led to the unfair neglect of its equally beautiful, though less widespread, array of Georgian architectural treasures.
Long before the city was partially uglified by the tower blocks and motorways of the 1960s and 70s, it was well-known for its Georgian as well as its Victorian architecture. Yet, the M8 motorway which cuts through the city today does indeed offer one advantage for the exasperated motorists navigating the road signage and congestion that typifies these flyovers – it gives a great view of the city on either side. Moreover, if you take the time to cast your eye around, there are plenty of dispersed Georgian treasures for you to spot.
Yet, when it comes to Georgian architecture in Scotland, it is probably Edinburgh's New Town which most readily comes to mind. This is understandable because those lengthy streets and terraced facades that make up the New Town are long, uninterrupted expanses of Georgian beauty.
It isn't quite like this in Glasgow, where the Georgian architecture is more dispersed. You will not find any long throughfares where you can appreciate a strip of this period's architecture – you have to a go a little more "on the hunt". Nevertheless, if you take the time to do this, you will be richly rewarded.
What is Georgian Architecture?
But before getting on to a list of Glasgow's Georgian architectural treasures, it might be worth going over what this period's architecture is actually like, and how you can identify it.
The Georgian period is the period just before the Victorian. It does not refer to just one "King George" but, in fact, several successive King Georges. The period spans the years 1714 to 1837, encompassing the reigns of the Hanoverian Kings George I through to George IV.
The period ends with the ascension of Queen Victoria in 1837, and the beginning of the Victorian era. The very short reign of William IV is normally included in the Georgian period. It was upon his death that the Victorian period began.
So, the Georgian period spans over a hundred years of British architecture, and it is known for many grand buildings and architectural triumphs, many of which survive today. The English town of Bath is well known to be a fine example of unspoiled Georgian architecture. Being such a lengthy period, the architecture is remarkably diverse. However, most of us will recognise a Georgian building the moment we see one.
The style is strongly based on the architecture of classical Greece and Rome and it values symmetry; it also tends to extend in long unbroken terraces (often curving). There are also Georgian detached houses, which are notable for their large windows and often-red brick building material.
Statues and sculpture were also highly prominent in the Georgian era and, as it is known to be the era of Britain's ascent to global superpower status, there is much dramatic history and well-known figures commemorated by Georgian monuments.
Georgian Glasgow
As mentioned, the beautiful architecture of Glasgow is primarily Victorian, reflecting how this was the period of Glasgow greatest growth. It was also the period of Glasgow's great industrial expansion, from shipbuilding on the Clyde to the factories and mills across the city.
Much of Glasgow's Georgian architecture did not survive this period, which was a time of great upheaval for the city. Booms in industry and population are responsible for this. Much was built in the Victorian era – and much was cleared away to make room for it.
Nevertheless, the Georgian era left its beautiful mark on Glasgow, and as we stroll around the city today with a keen eye, we can detect many Georgian structures that remain.
Glasgow Georgian Landmarks
As mentioned, Glasgow's Georgian architecture is dispersed and very much "here and there". That means it exists mainly in the form of individual landmarks in different places. Nonetheless, you may have heard of a few of the landmarks on this list if you have ever lived in the city for any length of time. Furthermore, you will certainly have seen some of them if you have ever so much as visited.
St. Andrews in the Square, Saltmarket
Built in 1756, this astonishing Church was designed by the architect Allan Dreghorn and is based on the St. Martin-in-the-Fields Church in London. Many believe that, after Glasgow Cathedral, it is the most beautiful Church in the city. Located in the Saltmarket district close to Glasgow Green, it is a remarkable building set in a beautiful (and also Georgian) square, surrounded by grand terraced houses.
Trades Hall, Glassford Street
The Trades Hall is the last building left in Glasgow that was designed by the famous Georgian architect Robert Adam. Built in 1794, it was originally the home of the merchant John Glassford, who also gave his name to the street. It is a beautiful building featuring classic columns and huge stylized windows, capped with a (now green) copper dome on top.
The Nelson Monument, Glasgow Green
Most Glaswegians are well aware of the Nelson monument in the city's popular park in the East End. This monument commemorates the British naval hero Vice-Admiral Horatio Nelson, who died at the battle of Trafalgar. It is not an ornate classical column like other "Nelson's columns" in the British Isles (though it was the first) and is instead more based on Egyptian obelisks. It is very tall, grand, and imposing. It was built in 1806, less than a year after Nelson's death.
St Andrew's Roman Catholic Cathedral
Currently serving as the most eminent Catholic church in Glasgow, St. Andrew's Roman Catholic cathedral was built in 1814 in response to increasing Irish Catholic immigration to the city at the beginning of the 19th century. It was designed by James Gillespie Graham. It is a beautiful Gothic inspired structure, looking quite different from other buildings on this list and therefore showing the diversity of Georgian architecture. Before this church was built, the only Catholic places of worship in Glasgow were small private chapels on High Street.
Conclusion
You need to do a bit of hunting for Glasgow's Georgian treasures, but when you find them, they are undoubtedly a breathtaking experience. Some of the finest architecture ever designed and built in this country dates from this period, and Glasgow has a small, but undoubtedly significant, share of it.
Comments on this guide to Glasgow Georgian architectural treasures article are welcome.
Strathclyde Buildings
Key Buildings in Scotland Articles – architectural selection below:
Merchant City boutique hotel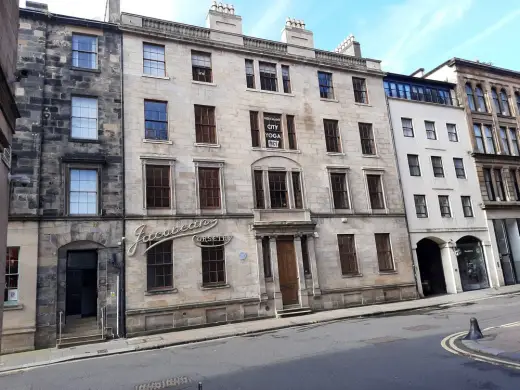 image courtesy of architects practice
Merchant City
Historic Glasgow : best Glasgow architecture of the past
Comments / photos for the Glasgow Georgian architectural treasures advice page welcome