Glasgow City Heritage Trust Chair, Scottish Building Development, Dr Morag Macdonald Simpson News, Info
Glasgow City Heritage Trust
GCHT News, Strathclyde, west Scotland
12 Jul 2011
New Chair of City Heritage Charity announced
Glasgow City Heritage Trust Chair
Following the retirement of Bailie Hanzala Malik MSP as Chairman of the Glasgow City Heritage Trust, former barrister Dr Morag Macdonald Simpson CBE has taken the helm as new Chair, with immediate effect. Dr Macdonald Simpson is excited about taking on this new role:
"I was born and brought up in Glasgow, but spent my working life in London. When I returned to Scotland in 1997, I was amazed and delighted to see the change in Glasgow, in particular how the centre and eastern part of the city were being restored and regenerated" she comments.
"Glasgow has a great deal of fine historic architecture, and leading the GCHT in both helping local people conserve their buildings and promoting the unique heritage of our city is an exciting, if challenging, opportunity".
Bailie Malik was Chairman of the Trust since its inception in 2007. In the recent parliamentary elections he was voted in as MSP for the Scottish Labour Party.
Since it was established in 2007, GCHT has worked on city-wide projects channelling over £4.42 million in grant-funding to conserve, protect, restore and promote Glasgow's historic built environment.
Scott Taylor, Chief Executive of Glasgow City Marketing Bureau emphasises the importance and value of the built heritage in Glasgow: "One of the reasons for Glasgow's success in attracting over 2.3 million visitors per year is the city's stunning architecture" he comments. "Glasgow City Heritage Trust plays a vital role in ensuring the unique architecture and historic built environment can flourish and continue to draw visitors from across the globe, helping to generate over £600 million for the local economy."
Glasgow City Heritage Trust information received 120711
• Glasgow City Heritage Trust (GCHT) is an independent charitable trust, supported by Glasgow City Council and Historic Scotland
• GCHT champions Glasgow's historic architecture and built environment
• The GCHT promotes and encourages the understanding, appreciation and conservation of Glasgow's historic building for the benefit of the city's communities and its visitors both now and in the future
• GCHT's building repair grants programme invests over £1 million per year into the preservation of the magnificent and unique historic built environment of the city
• GCHT's key activities include:
– distributing grants to assist in the repair, enhancement and conservation of the city's historic architecture
– providing help and advice to owners of historic buildings
– promoting debate about Glasgow's built environment through a range of events and collaborations
– supporting education projects and traditional skills training relating to Glasgow's architecture and built environment
Glasgow City Heritage Trust information from GCHT
Glasgow Building Designs
Contemporary Glasgow Property Designs – recent Strathclyde architectural selection below:
University of Glasgow ARC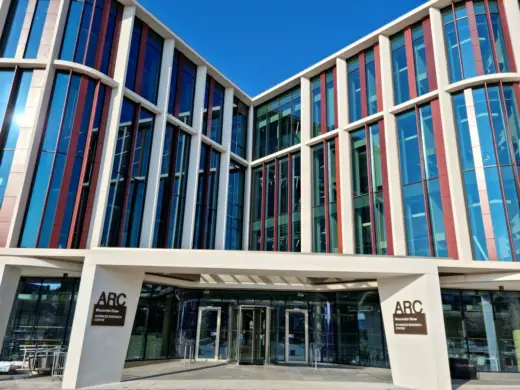 photo courtesy of UoG
University of Glasgow Advanced Research Centre
Solasta Riverside Building Buchanan Wharf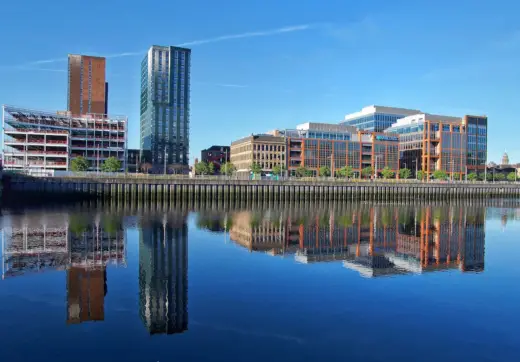 image courtesy of Drum Property Group
Solasta Riverside Building Buchanan Wharf
Buildings / photos for the Glasgow City Heritage Trust – former barrister Dr Morag Macdonald Simpson CBE new Chair news page welcome