Explore Glasgow's Celebrated Buildings, Best Scottish Architecture Designs
Explore Glasgow's Celebrated Architecture Designs
10 August 2019
When it comes to architecture, Glasgow is particularly lucky in that it has its own, unique style to show off to the world. Glasgow is home to an architectural style which encompasses several different eras. However, its distinctive look really took off in the 19th century with the emergence of two influential architects who would go on to shape the cityscape and inspire others to continue with their work. These two names are Alexander Thomson and Charles Rennie Mackintosh. Between them, they both had a lasting impact on the city's architectural style.
Explore Glasgow's Celebrated Architecture Guide
Thomson came along first, in the first half of the 1800s, and he is responsible for buildings such as Holmwood House, a remarkable and influential example of his classically-inspired approach to Victorian buildings. Mackintosh began his architectural career towards the end of the 19th century but he would also go on to contribute several examples which would become linked to Glasgow's style, including the Glasgow School of Art and the Willow Tearooms. He also contributed to the city's religious celebrations by designing Queen's Cross Church. Both of these visionaries were known for their use of sandstone in buildings, a technique which gave the city's streets a unique brownish-orange tinge.
While these are just some of the outstanding architectural contributions Glasgow has to offer, they are not the only ones and there are plenty more to be found if you potter around the city. Some of the other places of architectural interest that the city has to offer include Glasgow Cathedral, an imposing church built in the Gothic style in the 12th century and dedicated to the city's patron saint, Saint Mungo. Not too far away, you can find Provand's Lordship, a 15th century house which was restored in the 20th century and is now home to a museum. Glasgow Royal Infirmary is just a stone's throw away and this is another impressive feat of architecture that has its origins in the 18th century.
Two other architectural sights that ought not to be missed are Ibrox Stadium and Glasgow Central Station. Home of Rangers Football Club, Ibrox Stadium is also home to the Bill Struth Stand, a Category B listed building, which was designed by the influential football stadium architect Archibald Leitch who would go on design stands in some of the most famous football grounds in the United Kingdom. Glasgow Central Station is another must-see stop on any architectural tour as it includes the Heilanman's Umbrella, a vast glass facade that crosses Argyle Street. You can be sure that you won't be at a loss for sights to see when you're walking around the city.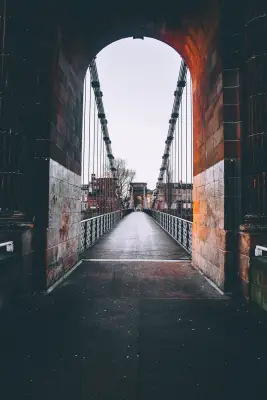 photo courtesy of article provider
Using social media to share your passion for architecture with the world
The buzz that is currently following social media means that it is the place to be if you want to share your ideas and opinions about architecture with the wider world. Spread across the different social networks, there are billions of people who are waiting for content about different topics.
While not all of these social media users will be interested in architecture, you can be sure that you will find a certain amount of them who are. Take Instagram as an example. Instagram is a social network which focuses mainly on the power of images and channels it so that its users can get their messages across. In the case of architecture, this can be extremely useful, given the importance of the visual format when appreciating architecture.
This is helped by the fact that there is quite an appetite for posts related to architecture, with more than one hundred and ten million posts using the #architecture hashtag on this social network alone. In addition to this interest in architecture in general, there is also a keen interest taken in Scotland's largest city. There are almost six million posts which use the city's hashtag. Whether you appeal to one group or the other, you can be sure that there will be demand for any content you have related to the city's architectural delights.
How to get attention on social media?
Of course, you will need to do more than just use hashtags if you want to get attention on social media. This is essential if you want to share your passion for architecture with a larger number of people.
It is important to build up an established base of regular engagement from social media users. By doing so, your profile will gain more visibility and you will find that people you don't know will start taking notice of your profile and its content.
A simple way to get more traffic for your profile is by using the location feature for your posts. With this activated, you are able to let people know exactly where you are. In the case of fans of architecture in Glasgow, this means that curious Glaswegians will be able to go out and have a look at these buildings in the flesh if they see something that tickles their fancy.
Another way to get attention on social media is by paying for social media features. For example, you can get real Instagram likes, views, comments and followers. All of these features play their part in contributing to an increase in your engagement rate and mean that you will have more chances of reaching a wider audience.
Glasgow Architecture
Major Strathclyde Building Designs – selection:
Historic Glasgow : best Glasgow architecture of the past
Comments / photos for the Explore Glasgow's Celebrated Architecture page welcome