Glasgow Urban Art, Recoat, Strathclyde, Scotland artworks, Scottish street artists design
Large-Scale Artwork in Glasgow, Scotland
Spring Fling Rural Mural (SFRM) – Recoat: Urban Art in west of Scotland, UK
15 Feb 2016
Rural Mural artists seek sites in Glasgow city
15 February 2016 – Rural Mural Artists Seeking Site for Large-Scale Artwork in Glasgow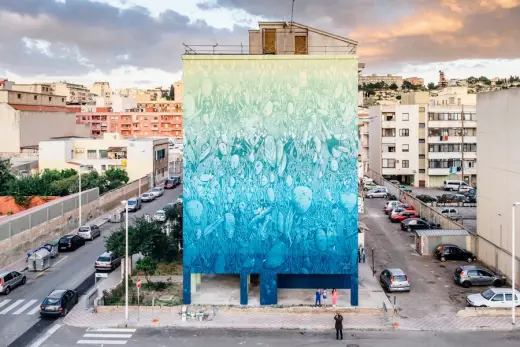 Glasgow Urban Artwork
Scottish street artists to create colourful artworks on a farm building, animal refuge and village pub before heading to the city
A team of artists, who are soon to paint large murals in the Dumfries and Galloway countryside, are seeking a site in Glasgow to create another major work.
Spring Fling Rural Mural (SFRM) is a collaboration between street artists from UK and European cities and artists based in one of Scotland's most sparsely populated regions. It is being staged as part of the Year of Innovation, Architecture and Design.
The first phase, in March, involves creating a series of murals on buildings at a farm, village pub and a centre for rescued animals. As the theme of this year's SFRM is "exchange" the artists will then create a second wave of urban murals in Glasgow, Newcastle and Berlin during March and April.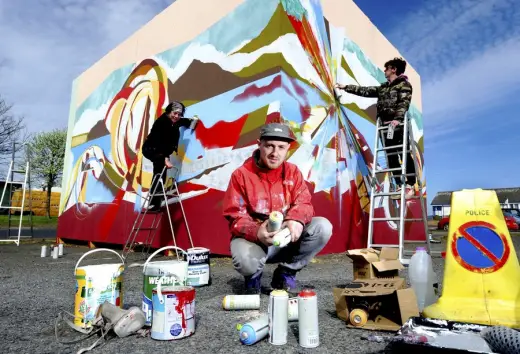 SFRM is organised by Dumfries and Galloway's Upland arts agency as a part of its annual Spring Fling visual art and craft open studios weekend. Rural Mural is project managed by Glasgow-based urban art specialists Recoat – who are now on the hunt for mural site in their home city.
Amy Whiten, Recoat manager, said: "The response in Dumfries and Galloway has been brilliant and we have some amazing sites for murals. We are hoping to find somewhere just as exciting for phase two – when Rural Mural goes urban.
"We are hoping to find something a couple of storeys high, so if you own somewhere that might be suitable please let us know.
"It's going to be really interesting taking a project which has started in the countryside into a city like Glasgow – to see what themes emerge and how the murals speak to each other."
Amy and her partner Ali Wyllie, who are also the lead artists for SFRM, have a long track record of high-quality mural making. This includes In Common, which involved collaborating with international artists to create five murals across Glasgow in celebration of the Commonwealth Games.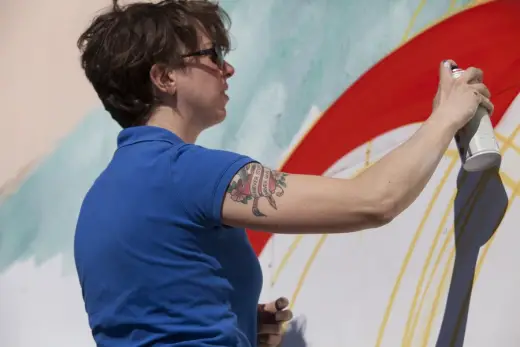 The Glasgow part of the project will be carried out by Amy and Ali with Morag Paterson, an internationally renowned photographer and visual artist, based near Thornhill. Morag specialises in abstract images inspired by the natural environment.
Clare Hanna, Upland Director (maternity cover), said: "It's great to have a collaboration which brings together artists from rural and urban areas, from Scotland and Europe, to create large, vibrant murals in the country and the city.
"The locations we have in Dumfries and Galloway are really exciting – a centre which cares for unwanted and abandoned animals, a pub in the heart of a village and magnificent farm building. So we are really hoping for sites that are just as good in Glasgow, Newcastle and Berlin."
Recoat were also closely involved in the original SFRM, which took place in 2014, and saw a series of artworks created on barns, buildings and even a horse blanket, in Dumfries and Galloway.
The project is also supported by EventScotland, a team within VisitScotland's Events Directorate, and by Creative Scotland.
Paul Bush OBE, Director of Events at VisitScotland, said: "In 2016, the Year of Innovation, Architecture and Design, we are delighted to be supporting Spring Fling's Rural Mural project, which will provide a fantastic platform for local Dumfries and Galloway artists to work collaboratively with international talent, and to showcase their work to a wider audience."
It is hoped that people who like the urban murals may want to visit Dumfries and Galloway for the Spring Fling weekend from 28 to 30 May to see their country counterparts while exploring some of the more than 90 artists' and makers' studios which take part in the event.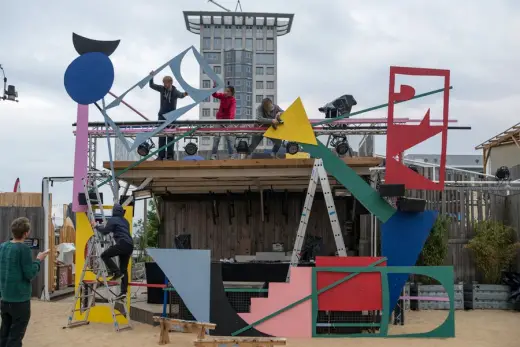 Spring Fling Rural Mural (SFRM)
The Spring Fling Rural Mural (SFRM) sites will be:
• The Mossburn Animal Centre, Hightae. The mural will be on the side of a large, stone farm building at this centre for ill-treated and abandoned animals. It is visible from B7020. The creators will be Berlin-based arts duo 44 Flavours (Sebastian Bagge and Julio Rölle) and Dumfries and Galloway visual artist Rory Laycock.
• Meiklewood Farm, Ringford, Castle Douglas. Tellas, from Rome, will team up with Kirkcudbright-based Morag Macpherson to create a mural on a large steading near the A75.
• Craigdarroch Arms Hotel, Moniaive. Amy Whiten and Ali Wyllie from Recoat in Glasgow will collaborate with Morag Paterson from near Thornhill. Their mural will be on a gable end at a pub renowned for hosting arts events.
Morag Macpherson and Tellas will then work in Newcastle while Rory and 44 Flavours go to Berlin.
Visitors to Spring Fling can also still see some of the 2014 murals. The original project included created artists like 1010 and Will Barras.
Spring Fling Rural Mural Artists
Morag Paterson is a renowned photographer (currently preparing for an exhibition in Australia) with an increasing interest in other forms of visual art. Her background is primarily in abstract photography but she also works with mixed media including painting. Much of her work involves engaging with and responding to place. See www.leemingpaterson.com
Morag Macpherson is a textiles expert with an international reputation. Her style of illustration is bold, colourful, bright and? her motifs are bordered by thick black outline – ideal for working on murals. See www.moragmacpherson.com
Rory Laycock is an emerging Dumfries and Galloway artist and a previous winner of a Spring Fling Young Artists' Bursary award. Colour is a critical component within his works and he has a love of the blues and greens that are so much a part of the Dumfries and Galloway landscape. Rory also has experience of creating installations, and enjoys collaborating with other artists – both of which will be invaluable for SFRM. See www.rorylaycock.com
Recoat has previously worked with 44 Flavours and admire not only the quality of their work, but also the fact that they include an architectural element – creating structures as part of their art. Tellas was selected because his art has lots of organic shapes and patterns that will be ideal for the rural environment.
For more about Amy Whiten and Ali Wyllie go to www.recoatdesign.com Tellas www.tellas.org and 44 Flavours www.44flavours.com.
Upland
Upland CIC (Community Interest Company) will support artists and makers based in, and with connections to, the region. It will deliver festivals, events, training, networking, support and opportunities as part of a year-round programme which will benefit the region, its artists, communities and economy.
Upland CIC runs the annual Spring Fling contemporary visual art and craft open studios weekend in Dumfries and Galloway. It will work closely with other arts bodies in the region to further-strengthen the sector. Upland is based at Gracefield Arts Centre in Dumfries and exists to:
• produce and deliver festivals, events, and experimental projects of the highest quality
• nurture an environment where artistic excellence thrives and grows
• inspire and educate a wide range of audiences, customers and clients to understand, celebrate, be actively engaged in and supportive of visual art and craft practice
• raise the profile of visual artists and makers locally, nationally and internationally fulfilling a crucial role in the culture and tourism of Dumfries and Galloway
• build strategic partnerships at regional, national and international level
• maintain a financially sound and adaptively resilient organisation
• use, and encourage the use of, innovative and emerging digital technology
• work to the benefit the local economy and the sustainability of local communities.
Its funders are Creative Scotland, D&G Council, EventScotland, Hollywood Trust, ASWT, Barfill, Cashback for Creativity, Big Lottery Awards for All.
Spring Fling
• Spring Fling is Scotland's premier visual art and contemporary craft open studios event covering the whole of Dumfries and Galloway, South West Scotland. Spring Fling is produced by Upland CIC.
• For further details on Spring Fling please visit www.spring-fling.co.uk or contact the team on [email protected]
Recoat
• Recoat is a Scottish arts agency based in Glasgow specialising in contemporary urban art working across three specific areas: mural projects, workshops, exhibitions.
• Partners and clients are a mix of public and private organisations including charities, local authorities, festivals, arts organisations and businesses. Recoat is made up of two partners, Amy Whiten and Alistair Wyllie and was founded in 2007 as both a gallery and community arts organisation. It has planned and managed complicated, large-scale public art projects, often involving international artists.
• The mission is to create lasting and original works of art that brighten and inspire communities, and to promote Scottish artists and bring inspirational artists to ScotlandRecoat does this through a programme of mural projects, workshops, exhibitions and events, and through the development of the artist network 'Team Recoat'.
EventScotland
EventScotland is working to make Scotland the perfect stage for events. By developing an exciting portfolio of sporting and cultural events EventScotland is helping to raise Scotland's international profile and boost the economy by attracting more visitors. For further information about EventScotland, its funding programmes and latest event news visit www.EventScotland.org. Follow EventScotland on Twitter @EventScotNews.
EventScotland is a team within the VisitScotland Events Directorate, the national tourism organisation which markets Scotland as a tourism destination across the world, gives support to the tourism industry and brings sustainable tourism growth to Scotland. For more information about VisitScotland see www.visitscotland.org or for consumer information on Scotland as a visitor destination see www.visitscotland.com.
About Creative Scotland
• Creative Scotland is the public body that supports the arts, screen and creative industries across all parts of Scotland on behalf of everyone who lives, works or visits here. It enables people and organisations to work in and experience the arts, screen and creative industries in Scotland by helping others to develop great ideas and bring them to life. It distributes funding provided by the Scottish Government and the National Lottery.
• For further information about Creative Scotland please visit www.creativescotland.com.
• Follow Creative Scotland @creativescots and www.facebook.com/CreativeScotland
Year of Innovation, Architecture and Design
• 2016 will shine a spotlight on Scotland's achievements in innovation, architecture and design through a wide-ranging, variety of new and existing activity.
• The Year of Innovation, Architecture and Design started on 1 January 2016 and will run until 31 December 2016. Itwill build on the momentum generated by the 2015 Year of Food and Drink as well as previous years including Homecoming Scotland 2014, the Year of Creative and the Year of Natural.
• Through a series of exciting events and activity, the year will showcase Scotland's position as an "innovation nation", its outstanding built heritage, and its thriving, internationally acclaimed fashion, textiles and design sector.
• The Year of Innovation, Architecture and Design is a Scottish Government initiative being led by VisitScotland, supported by partners including Scottish Government, Creative Scotland, Architecture + Design Scotland, Scottish Tourism Alliance, Scottish Enterprise, The National Trust for Scotland, Historic Environment Scotland, Highlands and Islands Enterprise and The Royal Incorporation of Architects in Scotland (RIAS).
• The Year of Innovation, Architecture and Design events fund is managed by EventScotland, part of VisitScotland's Events Directorate.
The Arches Venue : Glasgow Nightclub, Argyle Street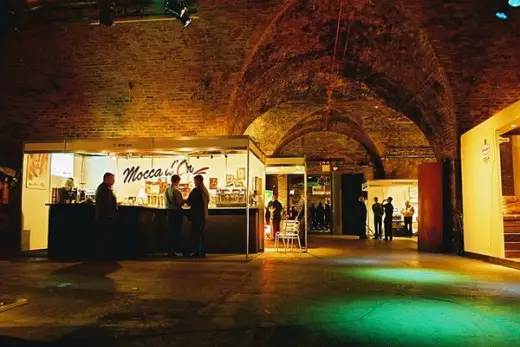 Glasgow Building Designs
Contemporary Glasgow Property Designs – recent Strathclyde architectural selection below:
University of Glasgow ARC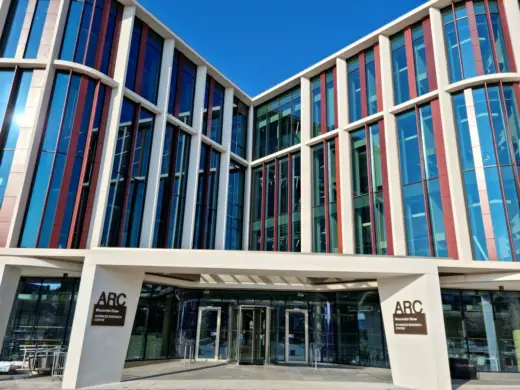 photo courtesy of UoG
University of Glasgow Advanced Research Centre
Solasta Riverside Building Buchanan Wharf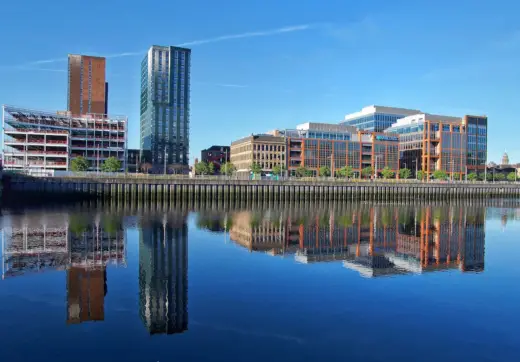 image courtesy of Drum Property Group
Solasta Riverside Building Buchanan Wharf
Buildings / photos for the Large-Scale Artwork in Glasgow page welcome